Your Total Auto Service Center in Hackensack, NJ
Nothing beats cruising around in a clean and well-maintained vehicle. Here at SpotlessAutoLaundries, we're dedicated to ensuring that your ride is always ready for the road. As a one-stop auto service center in Hackensack, NJ, we offer everything you want and need in one location to keep your vehicle looking great and running smoothly. Depend on our experts for:
Vehicle Cleaning
Brake Services
Oil Changes
Fluid Top-Offs
Contact us today to schedule a checkup or cleaning.
Keeping Your Car Clean
At SpotlessAutoLaundries, you get to choose between two quality car wash options. Our self-serv bays are a popular option for owners who like to clean their own vehicles. We provide all the equipment and supplies you need to achieve the sleek and shiny look that you're after. Alternatively, we are proud to boast a state-of-the-art touchless automatic car wash system. All you have to do is sit back and relax while our high-tech equipment does all the hard work for you. Regardless of the option you choose, you can be confident that you'll drive away from SpotlessAutoLaundries in a pristine vehicle that you'll want to show off!
Unlimited Car Washes!
It's never been easier to keep your vehicle spotless. Our new Unlimited Car Wash Pass Program provides you with total and year-round access to our 24-hour car wash.
Confirming your enrollment is easy. Simply provide us with your email address.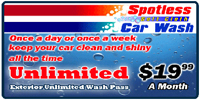 Take advantage of our Unlimited Program to maintain a spotlessly clean car from January to December.
LUBE
Changing your oil and filter is the simplest and most effective way to extend the life of your vehicle and engine.
WASH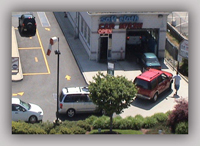 Our wash facilities are equipped with the latest and greatest equipment, soaps, and waxes that the industry has to offer.

SELF-SERV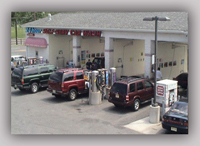 Cleaning your vehicle weekly is one of the best defenses when it comes to protecting its finish.